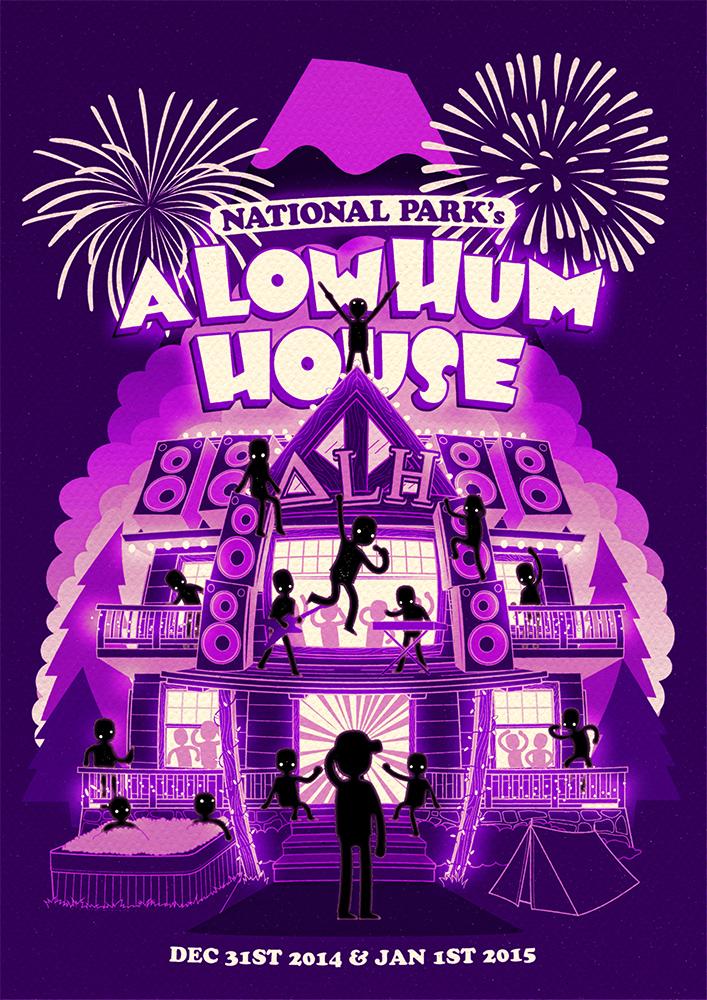 SOLD OUT.
Visit A Low Hum House on FACEBOOK
Where is A Low Hum House?

A Low Hum House is happening at Erua Ski Lodge in National Park . It is very easy to find and right on State Highway 4 and just a few minutes before the township of National Park. It is roughly 4 hours from both Auckland and Wellington, 90 mins from Whanganui and two hours from Palmerston North.
When is it happening?
A Low Hum House runs over two days, Dec 31st and Jan 1st. The first band will kick off at 8pm on the 31st, you are welcome to arrive anytime from 5pm. There is plenty of parking at the site and the bus/train runs nearby as well. Performances will take place through the night till whenever. Closer to the time when I come to sort out all the exact room numbers I will try my best to place you, if you like, next to your friends, and also, if you want, either as far as possible from the "main stage" or as close too as you wish. If you have some respect for sleep, there are some rooms a small distance from the party areas.


On Jan 1st performances happen sporadically throughout the day starting mid afternoon, though the party kicks off properly at sunset. There will be much chilling out on this day till then. There will be a room screening movies, the spa will be cranking, bring some games, cards, books, food etc. For those who are game, they can always head off and do the crossing . There is a pool table too, $2 a pop so bring some coinage.
What is the deal with food, boozes etc? Toilets, showers?
Bring everything you need yourself, nothing will be sold at the lodge. There is a kitchen you can use but please bring your own plates and utensils, last thing I want is to spend Jan 2nd doing dishes. There will be pots and pans you can borrow, but PLEASE wash them after. Don't be a dick.
You can come and go from site as you wish and National Park is just a few mins down the road or Ohakune is around 20 mins away with more food options too.
There are plenty of toilets and showers, and as long as nobody is having "deluxe" showers, we shouldn't be running out of hot water.
Who is playing?
Nobody famous, this is a tiny event and there is simply no budget for anything pretentious but as usual, the best live acts in the country will be at the party and though the name of the party is A Low Hum House, haha, it will not be strictly just House music – though I was tempted
Expect a bit of everything, but nothing shit. I won't be announcing a lineup or anything, and at the event the line-up will probably just be scrawled in marker on a piece of A3 paper taped to a wall, no fancy schmancey guide books.
What's the deal with the rooms?
Other than a few people tenting, almost everybody will be staying in one of two lodges. The main lodge houses the "main stage" and also the late night secondary stage so good for those who wanna party all night. The second lodge is a few seconds walk from the main but will be much less noisier (during the night). Both lodges have kitchens and "facilities". Other than a couple of rooms with double beds, all the rooms are made up of bunks beds and sleep between 2-8 people. There is no bedding supplied, just a mattress and pillow. If you would like to have the lodge supply bedding it's an extra $5 per person. I will ask people about this closer to the time, otherwise bring your own.
If you are staying in a room, you will need to pay a bond of $20 per person. You bring this in an envelope with you as cash to the event and hand to ticketing people in office when you arrive. Ie: if in a room with four people, bring an envelope (with your name and phone number on) with $80 cash in. When you check out, your room will be inspected and you'll get the cash back if you leave in tidy condition. Bring some rubbish bags to take away your crap.
Is this gonna rule?
What do you think? A bunch of awesome people taking over a ski lodge with a bunch of sweet bands and electronic acts and DJs. I mean, it would be mean without any of that carry on. Add in some kick ass live performances and…shiat.
Cellphone reception, innernet?
Cellphone reception is OK, there are a few boosters around the lodge, so better in some areas than others. The"games room" with the pool table and also the main stage room both have boosters in 'em. If you wanna trade on the Nasdaq and don't have innernets on your phone, you can purchase some wi-fi time. I'll have prices on that here before the event.
Is everything happening indoors?
The default plan is for all the entertainment to be happening indoors. This is why tickets are SO limited, so everyone can see the acts on the "main stage", which happens to be the dining room. If the weather is looking awesome, it will only take a very short while for us to swing the PA out onto the verandah and yeah, bring the party outside but we'll decide this on the night/s.
There is a hot tub right?
I would never lie about such a thing. Bring some togs.
Can I stay somewhere else but still come to the party?
Sure, if you have accom in Ohakune or National Park, just buy a "tenting" ticket and you can come to the event and stay offsite.
**
I hear you have some sort of beef with APRA and their payment of royalties to bands? What's that about?
On top of any performance fees paid to bands for events, they are also meant to receive a royalty payment per song played which gets paid out to the appropriate songwriter/s. After paying around $8-10k to APRA (who manage these payments) over the years for Camp A Low Hum and never getting shown any proof of that money being paid out correctly I have decided that until they implement a transparent system that I will be making royalty payments to songwriters myself. I have developed a new system called "PROPS" (Performance Royalty Open Payments System) which not only pays bands twice the amount they would get through APRA but does so within 7-14 days, not the 3-9 months that APRA take. For those interested, more details about how that works and how other promoters can use it will be here closer to the event.